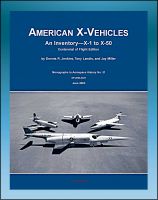 American X-Vehicles, An Inventory from X-1 to X-50 - NACA, NASA, Air Force Experimental...
by
Progressive Management
List Price: $8.99

*

Rating: Not Rated
Length: Novellette
Words: 14,000
Ebooks on flying or about flying for Aviation Fans
This official NASA history document - converted for accurate flowing-text e-book format reproduction - is a comprehensive survey of America's experimental aircraft from the pathfinding supersonic X-1 to the X-50.


(*List price is from the distributor. Sale price may vary on third parties).

<!h3>

Give a copy as a gift on:


Not Yet Rated


Smashwords - Not Rated
No reviews submitted - Why not write one?