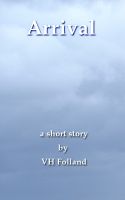 Arrival
by
V.H. Folland
List Price: $0.00

*

Rating: 8 / 10
Length: Short
Words: 1,600
Ebooks on flying or about flying for Aviation Fans
A short story set in the remote town of Brooke's Vale and its small airstrip. When Jim heads home after losing the plane he'd set his heart on, he's expecting to spend the remains of his leave getting drunk. The flying club, and his brother, have other ideas.Arrival is about the arrival of one of Brooke's Vale's more unusual residents, and set several years before Fire Season.


(*List price is from the distributor. Sale price may vary on third parties).

<!h3>

Give a copy as a gift on:












Smashwords - Not Rated
1 third party review factored in.

Read Reviews:
Rating:


An interesting little character piece that sets the scene nicely for Fire Season.

Surprisingly packed for such a short story, with a nice twist.