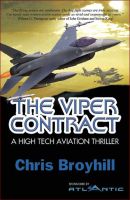 The Viper Contract "A High Tech Aviation Thriller"
by
Chris Broyhill
List Price: $5.99

*

Rating: 10 / 10
Length: Novel
Words: 128,200
Ebooks on flying or about flying for Aviation Fans
After a bitter retirement from the Air Force, former fighter pilot Colin Pearce is a corporate pilot. One day he takes a phone call and soon finds himself meeting two CIA officers with info on an upcoming terriorist strike that could have devastating global consequences. They need pierce to stop the deady attack on the U.S. He frantically tries to thwart the terriorists destructive intentions.


(*List price is from the distributor. Sale price may vary on third parties).